How inflation is impacting the insurance industry
January 30, 2023
The top risk facing businesses this year is persistent and sharp inflation, according to a recent World Economic Forum survey[1]. Inflation impacts almost every area of companies, and the insurance industry is certainly not left out. Currently the Federal Reserve is working to reduce the pressure of increasing prices by adjusting the federal-funds rate. However, according to the Wall Street Journal, "they worry that if consumers and businesses expect persistently rising prices, that will create a self-fulfilling cycle of high inflation that will be hard to stop." Although the Federal Reserve is taking aggressive steps to slow inflation, it seems to be the present reality and insurance companies need to understand the impact it will have on their business.
Impact of inflation on different insurance industries
Life and Health
Inflation may have a positive impact on life insurance companies due to the possible increase of policies sold. This fall the Federal Reserve increased interest rates again to counter inflation. According to research done by Life Insurance Marketing and Research Association ("LIMRA"), because of the increased interest rates there will be an anticipated boost in annuity sales.[2] Consumers are worried about equity market volatility and an upcoming recession, and they are seeking comfort in guaranteed income streams. The rising interest rates make annuities an easy solution to the changing economic climate.
Health care costs are lagging compared to average consumer costs. Family health insurance plans increased 1% so far in 2022, compared to almost 7% average CPI increase.[3] Forecasters are expecting that costs will catch up dramatically during 2023. Health insurance companies should be prepared to increase premium rates to prepare for the increasing cost of claims as well.
Property & Casualty
Auto insurers are facing significant struggles due to inflation this year. In a report released by the American Property Casualty Insurance Association ("APCIA"), auto insurers are having the largest increase in direct loss ratio in 20 years.[4] The report notes that inflation for auto insurance claims is rising faster than the consumer price index, and claims are increasing faster than the related premium rates. Claims costs are expected to increase through 2023 or longer.
Due to the low unemployment in 2022, workers' compensation premiums are expected to rise, however this stable increase could be significantly impacted by inflation. A senior analyst at AM Best noted that if inflation causes loss costs to increase, rate increases are needed to cover the gap.[5] Companies will also need to review their risk management and loss control efforts to limit claims frequency.
Impact of inflation on investment portfolios
Inflation is generally unwelcome news for the return on investments. The rate of return on any investment must outpace inflation rates for investors to get a positive return. Bonds or other fixed income securities lose favor during an inflationary economy. Although they provide reliable income, they tend to fall behind inflation levels. Rising rates also have negative consequences for stock market returns. Although higher costs can help boost companies' revenue, it is also costlier to borrow loans and spend money, which can decrease projected cash flows. Decrease in cash flow can decrease a company's valuation and in turn their stock price. Historical stock market returns are relatively lower during periods of high inflation, and the current market environment seems to be following the same pattern.
Insurance companies need to take time to understand the impact that inflation will have on their business and prepare accordingly for the expected and unexpected changes.
[1] https://www.businessinsurance.com/article/20221107/NEWS06/912353580/Inflation,-debt,-affordability-crises-pose-sternest-tests-to-global-business-WE
[2] https://www.limra.com/en/newsroom/industry-trends/2022/todays-fed-move-improves-outlook-for-annuity-sales/?&utm_source=email&utm_medium=industry_news2use&utm_campaign=11.8.22-newsletter
[3] https://www.usatoday.com/story/news/health/2022/10/29/health-insurance-cost-not-yet-hit-inflation-could-soon-spike/10620266002/
[4] "The New Normal? Auto Insurers Continue to Struggle With Inflation." APCIA, October 2022
[5] https://www.reinsurancene.ws/us-workers-comp-insurance-line-faces-uncertain-future-despite-solid-profits/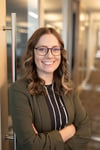 Tori is an Audit Manager for Larson and Company. She specializes in providing audit services and data analytics services for insurance companies.