SAPWG Exposures from the 2023 Summer NAIC Meeting
August 25, 2023
The Statutory Accounting Principles Working Group (SAPWG) met recently as part of the NAIC Summer meeting. As a result of the meeting, the following items were presented as exposure drafts and have comment deadlines as noted. We have compiled them below to help you see how they may affect your organization.
Click here for a printable pdf version of the SAPWG Summer 2023 Exposures.
For more questions or educational opportunities on NAIC updates contact Allison Johnson today.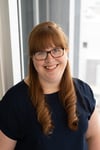 Allison is an Audit Senior Manager specializing in the insurance industry. She is the Education and NAIC specialist for the Insurance Practice Group at Larson & Company.