SAPWG Adoptions from the 2022 Spring NAIC Meeting
Apr 22, 2022
Click here for a printable pdf version of the SAPWG Spring 2022 Adoptions.
For more questions or educational opportunities on NAIC updates contact Allison Johnson today.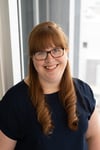 Allison is an Audit Senior Manager specializing in the insurance industry. She is the Education and NAIC specialist for the Insurance Practice Group at Larson & Company.